LMR Custom Rods and Tackle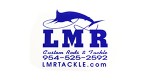 Business Name:
LMR Custom Rods and Tackle
Long Business Description:
After serving the Fort Lauderdale, Florida market for 25 years, we are un-equaled and are the sole remaining full service tackle shop in Fort Lauderdale.
We have a full time, in house, rod and reel repair shop that stocks Penn and Shimano reel parts, a full time Custom rod shop that has built sets of Custom rods for the most well known Tournament winning boats around.
Our Custom Lure shop produces unmatched Big Game lures that are renowned for their ability to outperform any lure, anywhere, in any ocean period. We are un-matched in our ability to custom outfit any boat for any ocean. Not only sets of rods and reels but most importantly, the tackle required for your success.
LMR enjoys the peerless recognition of putting the tackle package together you need to be successful in catching the fish of your dreams or a tournament winner at our expense. By this, we mean only that we sell the gear required for your specific needs, period. You will never be oversold with tackle not required or too much of the tackle you need. Our singular goal is your success and your success is our success, both now and in the future. We sell success!
Current promotion: Free bag of ice (Andy approved) with
membership card.
Send Message to listing owner